Contact options
If you have a product that you might consider retailing via QVC please feel free to send us your offer by using our application form.
Please complete the application form as detailed as possible to help us simplify and quicken the decision making process based on a complete first impression of your company. Information on contact details is as important as information on your company and your assortment. Please kindly send the completed form including pictures and any additional information to this email address: DE_Vendor_Alliances@QVC.com.
Please note, that we cannot open fileshare downloads, please send all documents within an E-Mail to us.
Furthermore, please be advised that reviewing your application can take a couple of weeks.
Send us an e-mail to: DE_Vendor_Alliances@QVC.com.
We look forward to hearing from you!
Live TV
On Air Product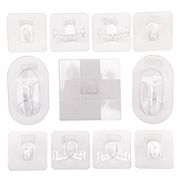 MAGISCHE HAKEN
Magische Haken-Set 10tlg.
Contact
In case of questions, we are ready to help you